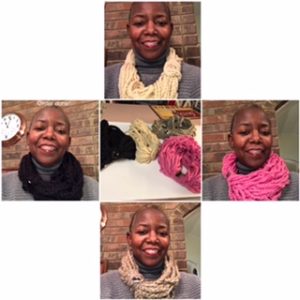 Know what calms you

 
The holiday season is here. No matter how you feel about the holidays, it is crucial for you to know how to stay
calm. I've recently returned to one of the things that helps me stay calm, crocheting. Ahhh, when I can grab my
crochet needles and start a project, there is a peace that I can't describe that comes over me.
I love crochet because I can crochet alone or with others.  This past weekend we went to a Hawks basketball
game and I was able to watch and crochet… I know multitasking but I was calming for me and I had orders
to complete. 😉 I crocheted in the car on the drive to the game and while at the game.  Did you know that
crocheting and knitting are proven to be meditative?
No matter what may happen over the next few weeks, know what calms you. Take time to step away
and center yourself as you need to. And remember that CALM and CHAOS both come from the same
place, your thoughts. Ask yourself if your thoughts are serving you and giving you the peace you deserve.
Connect with the present moment by taking a few conscious breaths.
I'll continue to share what keeps me calm over the next few weeks. I'd enjoy hearing from you what keeps you
calm.  Share your comments below.