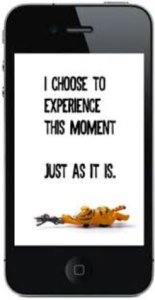 Daily Practices: Train your Brain 
Dr. Richard J. Davidson, William James and Vilas Research Professor of Psychology and Psychiatry, Director of the Waisman Laboratory for Brain Imaging and Behavior, and Founder of the Center for Healthy Minds at the Waisman Center, University of Wisconsin-Madison says science confirms that "A wandering mind is an unhappy mind."
I believe it is important to "train your brain, be kind to your mind and pay attention to what you think about and how you feel." Having practices around my brain/mind is comforting. It helps me to have a focus for my mind so I say my morning affirmations. Affirmations are statements that are aimed to affect the conscious and the subconscious mind.  We have between 60,000-80,000 thoughts during the day, so why not focus specifically on what I would like to show up in my life?
Most mornings I start my day with a walk with my Yorki Poo, Lacee. During my walk I am enjoying the sights and listening to nature. I also say my affirmations aloud.  I've usually had few minutes (10 or less) in meditation before I start my walk. If I have any questions I want to have my subconscious work on, I think about those questions before I meditate and walk.
Here are some affirmations I say aloud as I'm walking the dog.
Morning affirmations
I am calm. I am  safe. I am secure. All is well. I am grounded in life.
Today I take time to laugh more and not take myself so seriously.
Unexpected income finds me from places I could never recognize. I am grateful.
I trust my person guidance system (PGS) and I am always moving in the best direction for me at all times.
I love myself at all ages and stages of life. I am divine.
I forgive myself. I forgive others. I love myself. I know that forgiveness a key to living a fulfilling life.
Today, I stop to breathe and connect with the present moment.
Perfect health is my divine birthright. I eat foods that nourish my body by  instinct.
I allow myself the time to stop for myself to breath.
People love me and want to help me.
Things are always working out for me.
I have strength, stamina, endurance and flexibility. I trust that the right people and resources present themselves to me and I recognize them immediately. I take time during my day to be stil andget clear so I can make the best decisions.  I believe that no matter how  things appear, things are always working out for my highest and greatest  good.
Affirmations may be spoken, written and thought silently. I also practice using my affirmations during the day. Whenever I'm about to interact with people I like to use the affirmation I heard Louise Hay say, "People love me and always want to help me." I really find that helps lay a great foundation for conversations with people.
I'd enjoy hearing any affirmations, confirmations, or thoughts on how you train your brain.