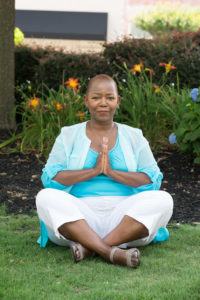 Barbara J. Faison believes we are on this earth to live, love,
learn, grow and share. These life principles are shared in her
inspirational book, Why Struggle? life is too short to wear tight shoes.
Barbara is committed to learning, evolving and growing (LEGing). She educates, inspires, and enlightens her audiences with her unique perspective on living with passion and embracing change and adventure as friends along your self-discovery journey.
Salsa dancing, crocheting, yoga and daily meditation are some of the ways she lives her life by design.
Barbara believes that taking a few moments daily to meditate and
be still enhances our lives. When we learn to connect with our breath we are in the present moment. Her audio program,
Be Still: Learn to Meditate in 10 Minutes a Day is a great tool for
new and experienced meditators to take a few moments to be still,
get clear and choose well.
Please contact me via the form below to discuss custom events.