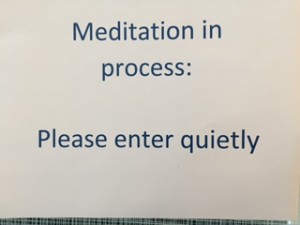 Posted on the conference room doors at the office 🙂
Be still, we did that! I am so thrilled that the first Meditations and Conversations session on April 26 had six participants who accepted the invitation to recharge, replenish and reconnect using meditation and breath work as a foundation. A few of the comments shared by the attendees are below.
"I felt refreshed, lighter and brighter." Yolanda
" I felt relaxed, happy and could just be. " Surayya
" I learned how to have quiet time to make myself relax." Antoinette
" I felt relieved." Tracy
I was so excited after the program on Sunday I invited a few co-workers to "take a 10 minute break" at 3:00 pm on Wednesday.  Five people, in person, and two people via phone gathered quietly in the conference room and allowed themselves to sit, breathe and "just be."  Feeling relaxed, focused, rejuvenated were some of the feeling expressed from the 10 minute session. After our meditation several people asked when we would do that again. I honestly just followed my instinct and I hadn't thought about doing it again… or had I?
Later that day I remembered I had an idea for an Office Meditation Group (OMG) several months ago and I blew it off. I had even talked about it with one of my Toastmasters members.  I'm learning daily that certain ideas must be implemented and not remain idle. I'm also learning to listen, obey and act on the insights and ideas I receive. I have learned that it is "because of the silence" and not "in the silence" that I am able to gain clarity and make better choices.
On Friday at 3:00 pm, six of us gathered for 10 minutes to stop, breathe and focus. When I opened my eyes and saw the look of relaxation on the faces of my co-workers, I smiled and sent a thank you to the universe. I'll be scheduling regular 10 minutes sessions based on popular demand.
Meditation is so many things. Mental focus. A muscle. A tool.  It's like trying a food you have never tried, you just don't know if you will like it until you take a bite or a few bites. And there are times you try a food and don't like it, at a different time you try the same food and enjoy it. I encourage you to take a bite and give meditation a try. The next Meditations and Conversations session will be on 5/24 @ 2:00 pm.
My audio program, Be Still: Learn to Meditate in 10 Minutes a Day is available on ITunes, CD baby, Amazon and other online locations.  Be Still has been designed with 10 minute meditations to ease you into the practice of meditation. There are tons of apps and sites now for guided meditations, meditationoasis.com (site and app) and
anxietyslayer.com–  (site and app). I also enjoy listening to Your Present: A Half-Hour of Peace by Susie Mantell to help me relax into a restful sleep.
If you are local to Atlanta please visit Juiceez & Etc.  20 Jackson Street SE Atlanta, GA 30312 on
Sundays @ 2:00 pm and Wednesdays@ 6:30 pm for Guided Meditation and Sound Vibration Therapy with Surayya Abuldmateen. You can also check out Yogahive.org for meditation, yoga and more.
Please share your thoughts below in the comments.